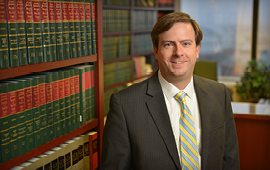 Phantom damages are once again in the legislative crosshairs of West Virginia's legislative session. Over the last several sessions, there have been a number of tort reform measures enacted into law, including changes to West Virginia's joint and several liability and comparative fault rules, as well as statutory limitations on punitive damages.
The 2017 Legislature is turning its attention to the collateral source rule; specifically the number of medical bills that can be used to prove damages in a civil action. Traditionally, the collateral source rule operates to exclude evidence at trial that a plaintiff has been compensated from other sources for their injuries (e.g. health insurance carrier); thereby eliminating that evidence from being used to reduce damage awards against a defendant. The rationale being that a defendant should not benefit from a plaintiff's contractual arrangements with a third party that may pay all, or a portion of, the damages incurred by the plaintiff.  However, in its  2014 opinion delivered in the case of Kenney v. Liston, the West Virginia Supreme Court of Appeals applied the collateral source rule to write-offs that medical providers give on medical bills.
Under West Virginia Code Section 55-7-4j, a medical bill that is paid or incurred is prima facie evidence that the cost of medical treatment was reasonable and necessary.  Typically, health insurers negotiate reimbursement rates for services with medical providers that are substantially discounted off the face amount of the bill; and, these are amounts the physician will not receive and that the patient (or in our case, the injured plaintiff) is not obligated to pay.  Prior to the Supreme Court's ruling in Kenney, lower courts were split on whether the write-offs were covered under the collateral source rule or admissible into evidence to rebut the presumption that the medical bills reflected the reasonable and necessary cost of treatment.  These write-offs have been termed "phantom damages" because no payments are made to the provider and the patient incurs no obligation to pay them.
As a direct reaction to the Kenney case, Senate Bill 197 was introduced on February 8, 2017, taking aim at phantom damages and amending W.Va. Code 55-7-4j in several respects.  First, it specifies that only bills actually paid, not paid and/or incurred, are prima facie evidence of the reasonable and necessary value of medical services.  Second, it specifically provides that those portions of medical bills that are discounted or written off, but not paid, shall not be used to establish the reasonable and necessary value of medical services.  Third, it limits the value of future medical expenses that may be introduced to those expenses that "will be sufficient" to provide reasonable and necessary future medical expenses.   It is unclear what this section on future medical expenses means and how it will operate in practice if SB 197 is enacted into law, as the law already provides that future medical expense must be shown, to a reasonable degree of certainty, in order to be recovered.
The drafters of SB 197 specifically overrule Kenney, declaring it to be contrary to the public policy of West Virginia.  They articulate the purpose of the bill is to abrogate the common law collateral source rule and to prevent compensatory damage awards for health care expenses from exceeding those amounts actually accepted by medical providers.  This is not the first time a bill seeking to eliminate recovery of phantom damages has been introduced in the Legislature.  SB 197 is expected to clear the Senate; however, it faces an uncertain future in the House.  Nevertheless, it remains one piece of tort reform legislation to keep an eye on during the 2017 legislative session.
Blogger:  John D. "Jack" Hoblitzell
304.345.8900 ext. 103
jdhoblitzell@kaycasto.com
Law. Business. Life.